Porter Cable 7424 XP Dual Action Orbital Polisher + FREE BACKING PLATE and Accessories
Price at : RM2,180 (order leadtime 3-5 weeks)
The Porter Cable 7424XP Car Buffer and Polisher is the newest and hottest selling machine! A professional tool guaranteed to bring out the very best finish.
The Porter Cable 7424XP will throw life onto the dead and dull by operating at an electronic variable speed between 2,500 -- 6,800 OPM (Oscillations Per Minute). But what really sets the Porter Cable 7424-XP apart from other similar polishers on the market the performance and smoothness. You will be hard pressed to find as good a polisher at such an outstanding price anywhere else. So make the right decision and go with the Porter Cable 7424XP car buffer and polisher for the very best in polishing potential.

Why Upgrade from the 7424 to the 7424XP Porter Cable? The new Porter Cable 7424 XP new design reduces vibration while maximizing efficiency. The machine is also more powerful then ever! Porter Cable increased the max. OPM from 6,000 to 6,800, and gave the 7424 XP a more powerful motor so that you will get the same great results, just faster.
User friendly upgrades include:
Porter cable also upgraded the 7424XP by upgrading it to a more durable power switch. A newer cooler and more Ergonomic design makes this polisher easier to hold and use while making it more comfortable which gives you more control over the tool.
If you are in the market for a great polisher you can't go wrong with the new and improved Porter Cable 7424XP!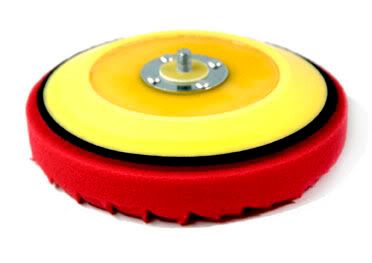 The Chemical Guys Porter Cable 7424XP Has everything you need to get started using a PC. AND WHEN YOU ORDER YOUR MUCH NEEDED BACKING PLATE a $18.95 value comes FREE.
The most powerful dual-action car polisher available. Built BETTER, STRONGER, MORE DURABLE & A BETTER WARRANTY. 1 Year Warranty from Porter Cable.
YOUR KIT COME COMPLETE WITH A 5" Backing plate for your Dual Action Polisher.

The Porter Cable 7424XP Car Buffer and Polisher and auto buffer does more than just polish paint!
Maintains a new car finish & improves paint gloss.

Removes swirl marks & paint scratches.

Safe & easy way to clean, polish & protect your car.
Combined with the appropriate accessories, the Ultimate Detailing Machine is excellent at cleaning, polishing, waxing and buffing:

Porter Cable 7424XP Car Buffer and Polisher is 100 times faster than hand polishing, but it never gets tired!
It polishes and waxes just like your hand, closely mimicking a circular hand polishing motion.
Virtually eliminates the possibility of the paint damage often caused by high-speed buffers.
It's Nothing Like an Ordinary Car Polisher!
If you have previously owned a car polisher that made a lot of noise and vibrated your hands, but did little for your car's finish, you will appreciate the Ultimate Detailing Machine. Most consumer grade car polishers don't have enough power, have a very small orbit (often less than 1/8 inch), and have limited accessories. The Ultimate Detailing Machine Model 1000 shatters these limitations.
The Porter Cable 7424XP Car Buffer and Polisher shatters the limitations of consumer grade "car polishers" and "auto buffers":
This car polisher has GOBS of POLISHING POWER!
A speed for every task!
Interchangeable polishing, buffing and cleaning accessories!
Compatible with industry standard Porter Cable 7424 car polisher
How Does the Porter Cable 7424XP Work?
The Porter Cable 7424XP operates by orbiting the polishing pad around a center spindle while the pad freely spins on its own axis. A counterweight on the opposite side of the center spindle dampens vibration for smooth operation.

The tool head action, often called orbital, prevents the creation of holograms (symmetrical buffing marks), paint burns and other forms of paint damage often associated with high-speed buffing machines. When used with proper care, the Porter Cable 7424XPs design virtually eliminates the possibility of paint damage.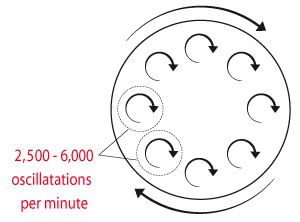 The polishing action of the Porter Cable 7424XP Machine Model 1000 closely mimics that of circular hand polishing. Imagine being able to make 2,500 to 6,000 tight hand circles in a single minute and you'll have a pretty good idea of how the Porter Cable 7424XP Machine Model 1000 does its job. It works just like your hand, only at super-human speed! To put the beauty of this machine into complete perspective, it works 100 times faster than a super buff athlete, but it never gets tired!

A Complete Kit... Just Add Pads & Polish!
The Porter Cable 7424 XP comes complete with a 1-Year Replacement Warranty. The best in the industry!
| | |
| --- | --- |
| Feature | Specification |
| Electrical Cord | 6' 4", Insulated |
| Motor | 110 volt, 4.5 amp (500 watt), max unloaded speed 6,800 RPM |
| Pad Speed Range | 2,500 to 6,800 oscillations per minutes (unloaded) |
| Case | Double insulated, ABS plastic |
| Weight | 6.2 LBS |
| Backing Plate | 4.75" diameter, flexible, with hook & loop BACKING PLATE FREE |
| Foam Polishing Pad | 6.0" diameter, reticulated polishing foam |
The most powerful dual-action car polisher available. Built BETTER, STRONGER, MORE DURABLE & A BETTER WARRANT

YOUR KIT COME COMPLETE WITH A 5" Backing plate for your Dual Action Polisher.
THE BEST 5" Backing plate for your Dual Action Polisher. DA-Molded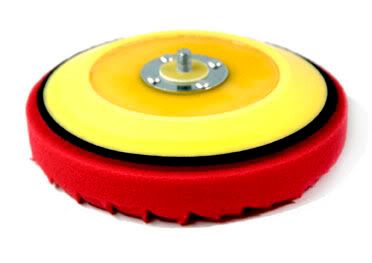 urethane backing plate. Nothing holds pads better then our Hook & Loop flexible backing plates.
FITS ALL 5" PADS.
DA BACKING PLATE Actually measures 5"3/4 inch. Pro-FLEX Flexible Backing Plate Ideal for all DA machines, Porter Cable, UDM, Ultimate Detailing machines and several others.
The Best backing plate for 6" pads for use with all Lake Country Pads, Chemical Guys MPT pads and all other Hook-And-Loop style pads. This backing plate was specially engineered by Chemical Guys to fit perfectly.

Chemical Guys Dual-Action Flexible Backing Plates minimize heat transfer, while it flexes just enough to contour to your autos bends curves. These backing plates are built tough and even carry a 1 Yr warrant. Ideal for use with Porter Cable 7424 Dual-Action Polisher or Chemical Guys Heavy Hitter DA.
Why get a molder urethane backing plate as apposed to some cheap shit you saw on line? Urethane is flexible and very durable. Reinforced inner construction utilizes steel struts molded into the center hub to give the plate stability while maintaining a great even surface for pads.
Price at : RM2,180 (order leadtime 3-5 weeks)